The Providence Journal
Tea is Served
by
Andrew Goldsmith, Journal Staff
Getting in touch with their inner etiquette
South Kingstown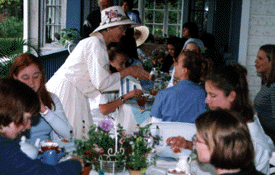 "Can we get these dirty?" a Narragansett Pier School eighth grader asked on Saturday, gently wiping her fingers on the napkin in her lap.
Her tablemates looked up from their scones.
"They're napkins," they both said in unison.
The students could be forgiven for not being sure - the lacy linens in question were far from the type most of us are used to these days.
But for the 15 students attending a tea at The Manor, a turn-of -the-century mansion in Wakefield, a change of pace was the order of the day.
"I hope it will help the girls learn … that there are times you have to take time for yourself, " Marie Younkin-Waldman, coordinator of the tea, said as she waited for her guests to arrive.
Younkin-Waldman said that while she was growing up, she and her family had tea every afternoon in the summer, when they visited her grandmother on Long Island.
"That was a time when everyone stopped everything," she said. "My grandmother came out like the Queen of England, with a long gown and pearls."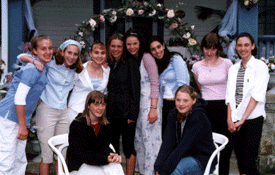 A resident of Narragansett, where she was once a schoolteacher, Younkin-Waldman said she thought a tea would give the eighth graders a break from busy lives, and a chance to learn something about etiquette as the same time.
The students - all of them girls but one - sat on The Manor's porch at tables draped in tablecloths and piled with china.
"Why not use something beautiful?" Younkin-Waldman said.
The hostess's friends and relatives - her "tea ladies," as she called them - served tea, lemonade, scones and egg salad and ham and cheese sandwiches on rye bread, cut into triangular quarters.
As they walked from table to table, the tea ladies instructed their guests on how to stir their tea quietly and how to hold the teacups.
Musicians inside the house played flute and guitar.
"You try to give kids a sense of what life could be," said Nancy Devaney, executive director of the Narragansett Youth Task Force, which helped organize the event. "And hope they pick up some of the nuances,"