A friend of mine from the North End said to me recently,"Marie, why don't you write about some ideas for celebrating the holidays, such as your tea parties, for the benefit of people like me who don't know anything about them?" So this one is for all those people who wish to entertain with tea parties. Maybe it will be helpful.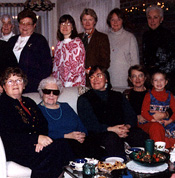 Some of my earliest memories of afternoon tea come from my grandmother, who was from Virginia. Besides her daily ritual of tea at 4 o'clock, she would open her home on New Year's Day for an elaborate tea served to all the members of her husband's parish. I remember as a small child being allowed to cut out and decorate the "sand tarts" from dough, which my grandmother had rolled out ever so thinly. It was such a special treat. And I remember watching my grandmother pour at teatime as she made pleasant conversation with her guests. I thought that my grandmother looked as elegant as a queen when she performed this ceremony. Perhaps that is the origin of my delight in afternoon tea.
For the past few years I have been giving Christmas holiday teas in my home. At first they started with just a few close friends.The number has grown now because I feel that I have met so many interesting and lovely ladies and I have so many wonderful friends. I enjoy using this occasion to show my appreciation to them. It my gift to them at Christmastime. It is also a part of the holiday season that I look forward to the most. My children have grown up, and the tea is the occasion to which I now direct my energy at holiday time.
I begin thinking about my tea by trying to find the loveliest invitations. I usually splurge on special invitations decorated with embossed Victorian roses or some such. These can be found in specialty shops. Then I devote an afternoon (usually a rainy Sunday with Pavorotti playing in the background) to a comfortable spot with fountain pen in hand as I write out all the invitations in my best handwriting. As I write out the invitations, memories fill my mind of the person to whom I am writing. I remember some of the special moments at past teas.Then I get on the phone and call my favorite person who helps me with my teas to make sure she is available before I mail out the invitations.This is another gift I give to my guests, By having someone help in the kitchen and at the tea I can focus entirely on being hostess to my guests. Also, I am hard of hearing, and I need to be near people to hear them, so I cannot be in the kitchen and speaking to my friends at the same time.
Then I plan my menu and decide where and how I am going to get the food. When I had more time I used to make everything, but now I take advantage of some nearby bakeries as well so that I do not overstress myself by trying to do too much. (Otherwise how could I enjoy my own party?) Everything I serve must look lovely and delicate. I use paper doilies under everything,. I buy rich-tasting brownies, bars and cakes. If they are large I cut them so that they are diminutive and place them in small fluted paper cups.
These are arranged on antique porcelain plates and silver pieces I nave (from my grandmother). The sweets are arranged attractively without too many on one plate at a time. During the tea they can be refilled. O bake small lemon love notes, almond crescents or Russian teacakes and perhaps some colorful spritz cookies. I am always thinking delicate. There are thin slices of bread and butter, There are small watercress sandwiches, cucumber sandwiches and sometimes pinwheel sandwiches. I get the long bread from the bakery and spread fillings such as colored cream cheese, tuna, ham spread, etc., on the lengthwise slices. I put olives or parsley lined up at the end. Then I roll them up, refrigerate them and slice the rolls when I serve them. The tea is always loose tea, Darjeeling or Earl Grey. My helper refills the pots during the party. For good tea you must rinse out the teapot with boiling water first, add the loose tea and then pour boiled water over the leaves to steep for about five minutes.
On my tea table I have placed my old family linens and candles in silver candlesticks. I have some kind of a Christmas centerpiece. I have fun decorating the table. Sometimes I have a lot of small candle votives. Sometimes there is only candlelight in the house. My grandmother's silver tea service is on the table. Sometimes I sit at the head of the tea table and pour, and we all pretend that is is 50 years ago when my grandmother was alive. My tree might be up or I might have old-fashioned greens around. We play Victorian games. We laugh a lot.
Sometimes I have a theme. One year we packed food baskets for poor families in Narragansett. This year we will be collecting things for the hurricane victims [ed. written prior to this year]. Sometimes we go down stairs and I try to play the piano and we sing Christmas carols. Believe it or not, I only see some of the friends that come to my tea once a year. This is because we all get so darn busy. So we usually have a lot of catching up to do. There is plenty to talk about. We share photos of our kids. One year we had a "mother-daughter" theme because it just turned out that way. That year my daughters and granddaughters came. I never know how many guests are going to come, but that's part of the fun. It seems that no matter who comes it is always just the right group. I have a small house, but we all have a good time. I am so fortunate that I have so many lovely friends to invite to my teas. My friends are my gift to me